WAIALUA ESTATE SINGLE ORIGIN CHOCOLATE
Grown in Volcanic Soil Premium 100% Hawaiian Chocolate
Rare, World-Class Award-Winning Chocolate made from pure Hawaiian cacao grown exclusively on the North Shore of Oahu, Hawaii.
NORTH SHORE TROPICAL PLANTATION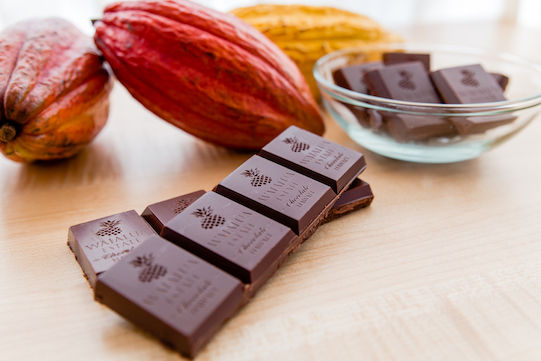 We are excited to introduce you to Waialua Estate world-class Hawaiian Chocolate. We grow our cacao to make our Retail and Couverture chocolate. We think you'll agree that it's some of the most unique chocolate you will ever taste. Each chocolate bar is molded with our Waialua insignia, evoking the premium quality and exclusive nature of these rare chocolates.
PREMIUM HAWAIIAN CHOCOLATE
Waialua Estate Chocolate is available in 70% Dark Chocolate,
55% with Cocoa Nibs, and Milk Chocolate.
70% DARK CHOCOLATE BAR
This dark chocolate bar is noted for its bright fruit notes, rich deep cocoa flavors, and velvety textures.
55% CACAO NIB BAR
Our 55% Cocoa Nib Bar is well-balanced with a crunchy texture and hint of fruitiness. Satisfying on so many levels.
MILK CHOCOLATE BAR
For Milk Chocolate lovers its warm caramel tones and delicious creamy texture are delightful with the right balance of sweet and creamy.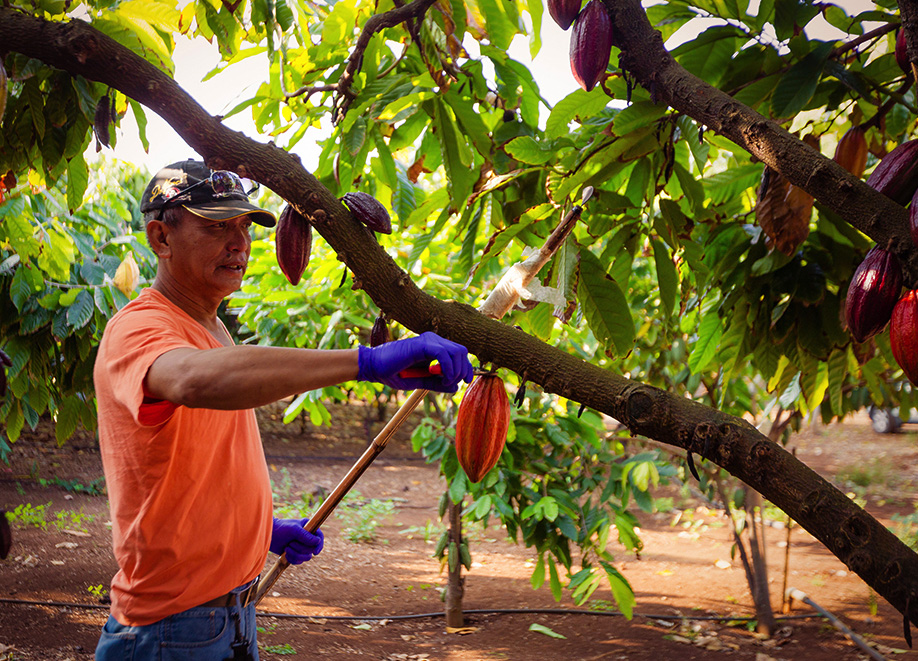 Waialua Estate's Hawaiian cacao is grown along the banks of the Kaukonahua stream in rich, fertile and sweet soil that provides an exceptional "terroir." Not only will you taste bright banana and pineapple notes, you will then move into flavors of dark cherry, berry and raisins.
Waialua Estate's cacao trees are a special blend of Criollo, Trinatario and Forestero varieties sourced from some of the finest cacao estates in the world. And with our years of expertise in the fermentation and drying of cocoa beans, we provide all the key elements for flavor enhancement.
WAIALUA ESTATE CHOCOLATE
1. In the past, the growing of cacao had been limited to a belt of 20 degrees north or south of the equator. But at 21-22 degrees latitude, Waialua Estate on the North Shore of Oahu is now breaking that rule and cacao is becoming an important crop for Dole Food Co. Hawaii
2. Chocolate contains over 600 flavor compounds, which give off its distinct aroma, according to the American Chemical Society. In comparison, red wine is reported to only have around 200 flavor compounds.
3. Nothing heals the soul like chocolate – subjective fact.
4. Kokoleka is the Hawaiian word for chocolate.
5. Our 80-acre Waialua cacao orchard was planted in 1996.
6. Fermentation of the cocoa bean – which includes the use of the fruit or pulp – is a less understood but critical a step in the process.
7. From the cacao pod, the raw cocoa beans represent about 25% of the fruit. After fermenting and drying the bean, you're left with roughly 35% of that. Then the dried beans are, roasting, which reduces the moisture and therefore more weight. And another 20+ percent is lost in winnowing or removal of the shell. All that and we didn't even start making chocolate yet!
8. New research indicates that chocolate may enhance cognitive brain function.
9. Waialua Chocolate is known for its dark tones of cherries, blackberries and raisin overtones.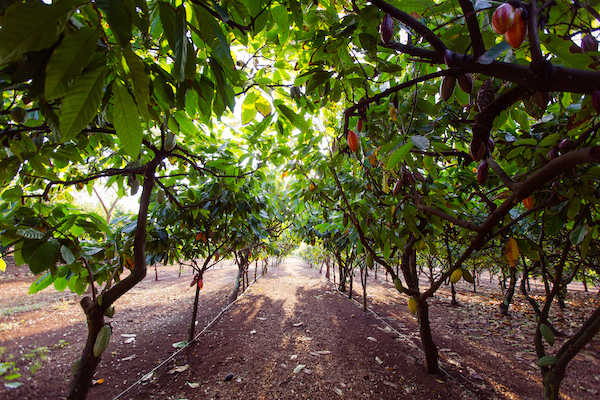 Waialua Estate Cacao Orchard